HOME>
TYPES OF TANK: F-Panel Tanks
Water Supply & Drainage Division


One size and style does not fit all. At Sekisui we have consistently listened and responded to the demands of our customers who desire special products for special situations.
F-Panel Tanks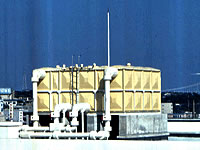 Sekisui tanks using GRP panels are Sekisui's most important product.
GRP stands for Glassfibre Reinforced Polyester and is also sometimes referred to as FRP.
The use of glassfibre for reinforcement results in a strong product which excels in resiliency.
Standard Design Specifications
Design Life
15 years
Normal Maximum
Hydrostatic Pressure
Tank Height
Hydrostatic Pressure
1.0mH
9.8kPa (0.10kgf/cm2)
1.5mH
14.7kPa (0.15kgf/cm2)
2.0mH
19.6kPa (0.20kgf/cm2)
2.5mH
24.5kPa (0.25kgf/cm2)
3.0mH
29.4kPa (0.30kgf/cm2)
3.5mH
34.3kPa (0.35kgf/cm2)
4.0mH
39.2kPa (0.40kgf/cm2)
Horizontal Seismic Co-efficient
0.3G, 2/3G, 1.0G, 1.5G, 2.0G
Wind Load
Wind speed 60m/sec
Snow Load
588Pa (60kgf/cm2) (Snow depth: 0.3m)