Water Supply & Drainage Division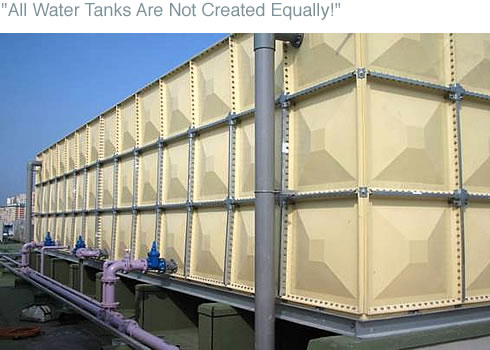 Sekisui Water Storage Tanks: A Brief Introduction
Sekisui panel tanks are six-sided in design, each side consisting of a network of "GRP" (Glassfibre Reinforced Polyester). These panels are produced at one of Sekisui Auqa Systems quality control plants using our proprietary MMD system. Utilisation of the GRP construction method provides an insurmountable degree of strength and durability for our water storage tanks. Additionally, design factors such as hydrostatic pressure, wind load, snow load, seismic load, etc., of the area where the tank will be erected are all taken into consideration during preliminary tank design stages. Further, the lightweight nature of these glassfibre panels - constructed using our exclusive MMD method - facilitates transportation of the disassembled tank to the erection site. Its lightweight nature also reduces the amount of time and labour required during assembly. Finally, all parts and accessories for Sekisui water storage tanks have been standardised, thereby simplifying any repairs that may become necessary after assembly and simultaneously reducing down time. As an added benefit, Sekisui's after-sales service and maintenance are second to none.
Some Current Installations
Click on the thumbnails to view a larger photo.